Search Engine Optimization (SEO)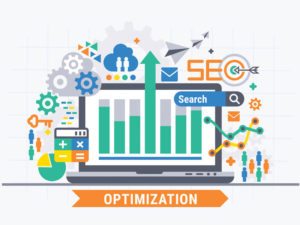 Search Engine Optimization is a science: the study of precisely what makes a site visible, attractive, relevant, and authoritative to internet search engines, particularly Google and its complex and evolving search result algorithms.
And science demands the right tools. Of course we have extensive experience with Google AdWords, Analytics, and Webmaster, but we also subscribe to best-in-class third party research services and leverage schema markups, rich snippets, and additional resources and methods that have delivered top performance for our clients in the past.
Skillfully using these tools and more, we optimize the code and content of your site to get it consistently ranked highest in search results and have its listing stand out on the page. That means more motivated traffic coming your way.
We also address user experience and conversion optimization — what happens after that motivated traffic arrives at your site. We map user habits and patterns to see where you can offer stickier writing, images, and video, optimizing the flow and structure of your content for a better conversion rate and further reducing your cost-per-lead.
We meticulously track and report it all in clear, understandable detail and, since people continue to search, we will continue to monitor how and why they do it, adapting your SEO strategy accordingly.
Our highly skilled SEO experts, including a former Google senior sales executive, will:
Conduct an indepth SEO audit of your current site, starting with recent traffic metrics and where it's ranking with relevant search terms
Research keywords and phrases that have been metrically shown to drive traffic and convert users
Create customized SEO campaigns, analytic code, and dashboards, and helping set relevant metrics benchmarks
Optimize your website's information architecture for better indexing
Develop a content strategy that appeals to both search engines and site users, growing organic traffic and assuring it stays on your site longer
Monitor your site's ongoing search result performance, reporting on key indicators and metrics, and making recommendations for continued improvement
Integrate all SEO lessons and wins into your overall marketing strategy
Leverage any regional advantage to rank your site higher in local listings
Determine opportunities for referrals, both within your own content as well as that of related or otherwise complementary sites
Pera Media makes SEO a priority for your online marketing strategy and helps you get it done right.